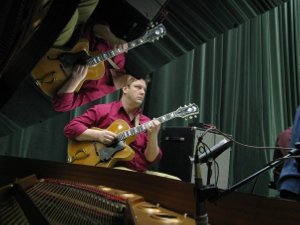 WELCOME
Kevin Smith is a Bay Area guitarist specializing in Jazz Guitar, Classical Guitar and the occasional Tenor Banjo.
"[Kevin] plays with a sense of style and maturity that is rare to find in musicians twice his age. He's a real find."
- The New Orleans Music Revue; May, 2001
"...a talented jazz duo."
- Diablo Magazine; July, 2007 - "Best of the East Bay" issue, in reference to the Smith/Stern Jazz Duo
"He's a very good guitar person, but he should call more often."
- Kevin's mother.