My Gear
I sometimes get asked about my gear. Here is the list:
My Jazz Rig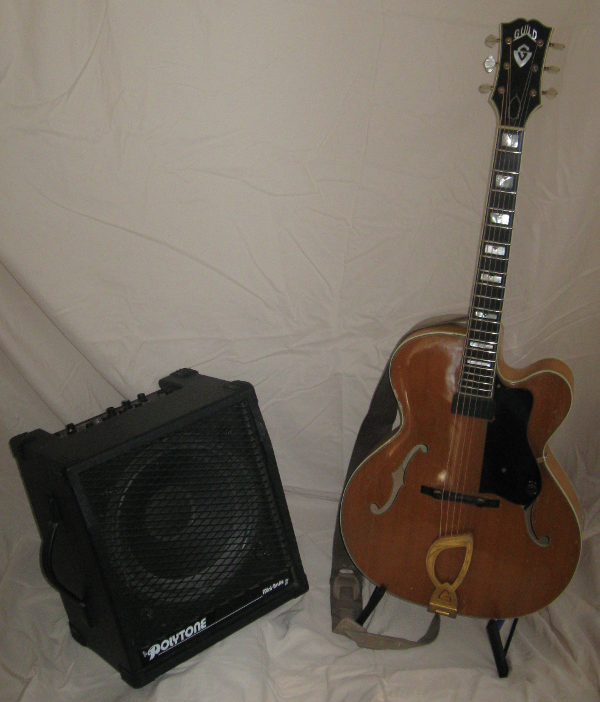 Jazz Rig
| | |
| --- | --- |
| Tenor Banjo | Classical Guitar |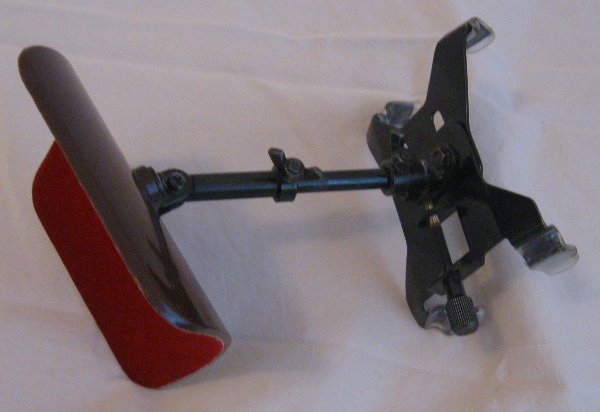 Murata Leg Support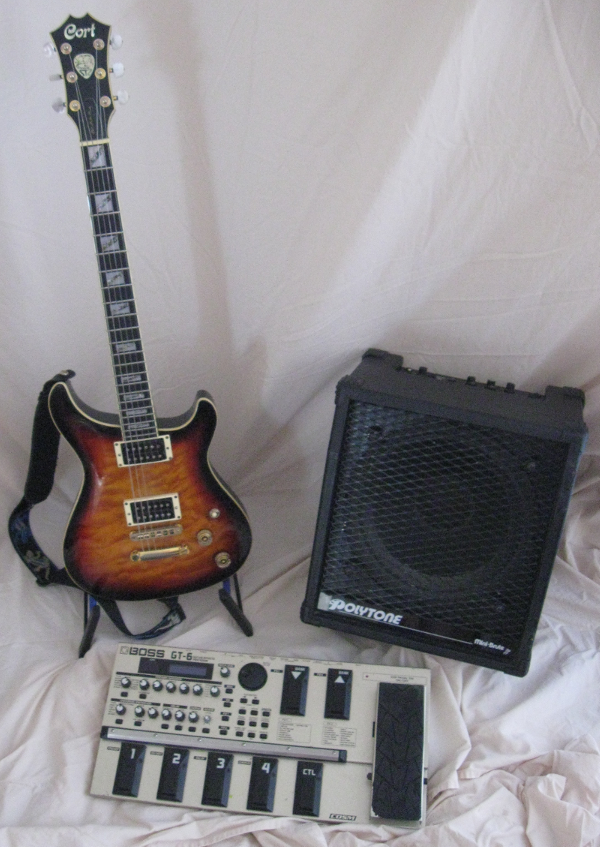 Rock/Theater Rig
My standard guitar is a 1963 Guild Stuart 500 (AS-500). I picked it up back around 1995, when I cashed out my retirement account as I left Intel. According to the salesman it was once guitar of
Jerry Hahn
, which was later confirmed by a former student of his who recognized it. When I recieved it, it was missing the original pickup, which had been replaced with with an EMG active pickup. I found that that had a little bit too pure of a sound for me so I replaced it with a
Benedetto S-6
. One of the nice things about the pickup is that I can use it with bronze strings so I get a really nice acoustic sound and electrically the sound has a nice "speaking" quality.
For my amp, I go with the jazz standard, the Polytone. Yes, you can get better jazz guitar amps. But for the price and durability, you can't get a better sounding amp. Maybe someday, if I have the money, I'll upgrade to something else, but for now I'll just have to stay with the fine workhorse of an amp.
I've tried many different strings over the years. Of course, as I said, I use bronze strings because of how the pickup is voiced. I finally settled on the D'Addario EJ17s, medium phosphor bronze acoustic strings, 13-56. I had experimented with 14s for a while but I found that they gave a great tone, the higher tension was a bit much when playing chord-melody (because of the need to hold down the strings for so long in such big chords.) Plus, I like that I can get the 13s in 10-packs — more econimical and better for the eviroment.
For cables I finally settled on George L's. They have the high conductance of a high quality string without the high price. I've also seen tests where they have a higher durability than other more expensive cables. Perhaps the greatest feature of these is that the plugs can be easily removed, the end of the cable can be recut and the plug can be replaced. This makes it very easy to fix breaks in the cable. I actually just bought a 50' roll of the .155 cable and a bunch of plugs and built my own cables.
For a pick, I go with the Jim Dunlop Jazz II black picks. I like that they are smaller than the standard pick size, common to many jazz players. I think that we like the control of being closer to the strings.
I guess that I could also mention that I have an old 1961 Gibson TB-100 tenor banjo that I pull out for the occasional Dixie gig.
My Classical Rig
My classical set up is obviously much simpler. The guitar I have now is a Córdoba 50R, a low level cedar top guitar. In the future I hope to upgrade to something better and possibly drip a piezo pickup into this one.
Being a taller guy, especially in the upper body, I had a big problem getting guitar into a good position. I found that I was contorting my upper body. Even with the footstool all the way up I was still straining and now my leg was in a bad position. I finally decided to try leg supports. After trying many fine supports, I settled on the murata guitar support. I find that this gets the guitar into a good position and with a footstool on its lowest setting, I can sit with good posture for hours. Because of the increased angle of the guitar on my right leg I usually put a piece of black shelf liner (a rubber mesh) on my right thigh.
As to strings, I am currently in flux. I was using the Savarez 520R strings. I liked the distinct sound and feel of the rectified nylon trebles. But I found that I wasn't getting enough oomph in the high notes &mdash due more to the low quality of this particular guitar model than to the strings. Lately I've been experiemnting with D'Addario T2 Titanium Strings and I think that there is more pressence in the upper notes.
Of course nails are a big part of classical guitar playing. In addition to a standard nail file, I like to use 3M 405N Tri-M-ite "fre-cut", 500A for everyday sanding. Rather than keep buying it sheet by sheet at the local guitar store, I just went ahead and got online and got a whole box of 100 sheets. I like to cut them up into a bunch of 2" squares and even keep one in my wallet in case of emergencies.
My Rock Rig
I'll have to admit that I don't do many rock gigs much anymore. My rig is essentially left over from my cruise ship days, but I sometimes drag it out for theater gigs. My rock guitar is a Cort MGM-1, the Matt "Guitar" Murphy signature model. The funny thing was that I was living in New Orleans and had just sold off my old Jeff Beck strat when I got a call to do Little Shop of Horrors, for which I would need a solid body guitar. Aye! So I made a deal with the shop owner where I teached for the MGM, which I had been admiring. I loved it! There were more expensive guitars there, but there was just something about this one that spoke to me.
For signal processing, I have an old Boss GT-6 that does the trick well, also a hold over from my cruise ship days. Other than that, most of the ricg is the same as my jazz set-up. I use D'Addario EXL115 (nickel wound, 11-46, plain 3rd). I used the same JD Jazz II pick, but here I use the red version — slightly thinner and more flexible.